Benefits of cleaning your air ducts and HVAC system
Improved indoor air quality of your work environment.
Remove years of accumulated contaminants and debris.
Lower utility costs & improve the efficiency of your HVAC system.
Extend the life of your heating and/or air-conditioning system.
Improved health and well-being of your workforce.
THE BETTER AIR STANDARD
As a Better Air Customer your satisfaction is our #1 Goal.
   
Whether your a Restaurant, High rise office building, small office, or manufacturing facility, you will notice a level of personal care and attention to detail from Better Air.
We provide HVAC cleaning services, maintenance, and inspection to insure a clean and healthy work environment for your facility. Customer reports are provided with every job including before/after pictures, videos and recommendations for maintenance.
How do I choose the right HVAC air duct cleaning company?
Questions you should ask when selecting a professional air duct and HVAC cleaning company:
Are you a NADCA Certified company? Verify at NADCA.COM
How long have you been in business and is HVAC air duct cleaning the only service you offer?
Will you provide customer references?
Does your cleaning process include cleaning the supply branches, return branches as well as all the return and supply trunk lines.
Do you use powerful vacuums on all your jobs 5000CFM or better?
Do you take before/after pictures of all the ductwork for verification?
Do you provide a written guarantee of all the work you perform?
Photo Gallery: Actual Air Duct Cleaning pictures from Better Air's Customers.
VIDEOS:
Actual Better Air customers' air duct cleaning videos.
What are some of the most   common contaminants located in commercial Air Ducts & HVAC System?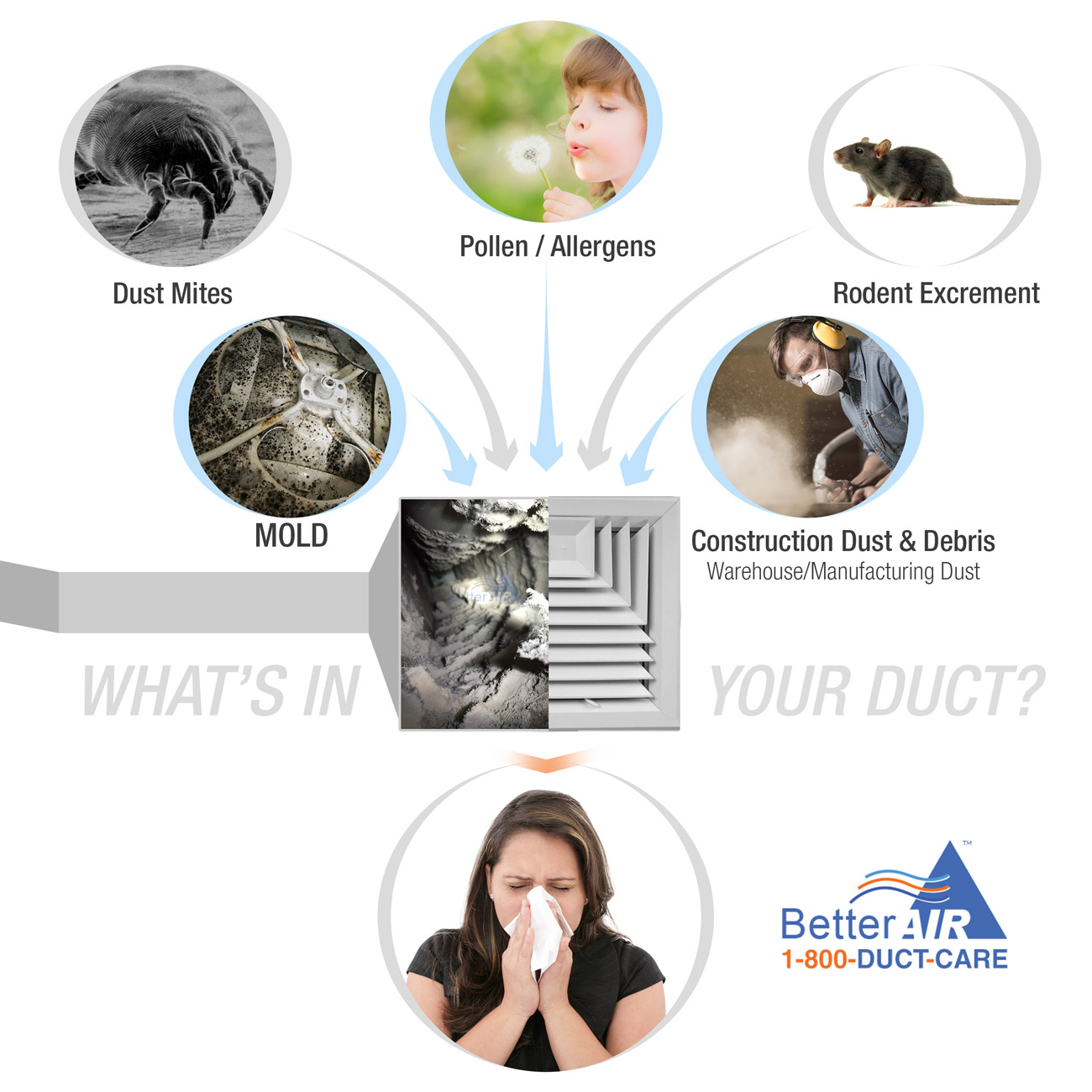 Construction debris:
Sawdust, Nails & screws, Drywall dust, Plaster, Wood, Drywall, soda cans, Lunch bags, and much more...
Other commercial work building   contaminants:
Pet hair & dander, Tobacco smoke, Pollen, Carpet fibers, Insects / Rodents, Microbiological Agents ( such as Bacteria, Fungi, Viruses, Mold), Decaying organic matter, Skin flakes, Dust mites, Residue from chemicals and commercial products.
Why choose Better Air to clean your HVAC Air Ducts?
| | |
| --- | --- |
| | We Are a NADCA certified Company. |
| | Members of the Indoor Air Quality Association. |
| | Air Systems Cleaning Specialist (ASCS) on staff to answer all of your question or concerns. |
| | Before/After Pictures and Videos on every Job. |
| | All Technicians Complete 1200 hours of field training and NADCA'S Ventilation Maintenance Training program. |
| | At Better Air Customer Satisfaction is our #1 Goal. |
| | We are committed to the quality of our work. |
| | We offer a 90 day guarantee to ensure our customers are satisfied. Terms of guarantee are available upon request. |
More Cleaning Information:
The Inside Story: A Guide to Indoor Air Quality (EPA, VIEW SOURCE)
Is air duct cleaning worth it? (Angie's List, VIEW SOURCE)
LICENSED, BONDED, AND INSURED
ALL JOBS ARE WORKMANSHIP GUARANTEED!
Call 1-(800)-382-8227 Today to Schedule!